Saturday May 12th at 13:00 p.m. London Time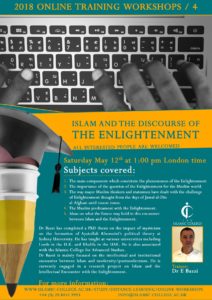 Subjects covered:
The main components which constitute the phenomenon of the Enlightenment
The importance of the question of the Enlightenment for the Muslim world.
The way major Muslim thinkers and statesmen have dealt with the challenge of Enlightenment thought from the days of Jamal al-Din al-Afghani until recent times.
The Muslim predicament with the Enlightenment.
Ideas on what the future may hold in this encounter between Islam and the Enlightenment.
Trainer: Dr Emad Bazzi
Short Bio of Dr Bazzi:
Dr Bazzi has completed a PhD thesis on the impact of mysticism on the formation of Ayatollah Khomeini's political theory at Sydney University. He has taught at various universities including Leeds in the U.K. and Khalifa in the UAE. He is also associated with the Islamic College for Advanced Studies. Dr Bazzi is mainly focused on the intellectual and institutional encounter between Islam and modernity/postmodernism. He is currently engaged in a research project on Islam and the Intellectual Encounter with the Enlightenment.
All interested people welcomed.
For more information please click here.