A big "Well done!" to the winners of this year's awards!
With the aim of encouraging and rewarding high standards of research and academic writing, the Research and Publications Department grants special awards to students of the College for the work they produce on their programmes of study.
This year, Sharaiz Chaudhary won the Ibn Sina Award for Best MA Dissertation. Sharaiz's dissertation was titled 'Islam and Capitalism: A Critical Analysis of Islam's Response to Economic Inequality'. He is pictured below receiving his award – comprising a plaque and the sum of £300 – from the Director of Research and Publications, Shaykh Mohammed Ali Ismail.
Manahill Osman was the winner of the Abu Rayhan al-Biruni Award for Best BA project. This award comprises a plaque and £200. Manahill, pictured below, titled her project 'Hajj Dilemma –The Causes of and Solutions to Stampedes'.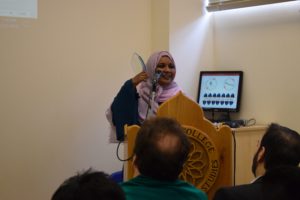 Students whose work is published in the student journal of College, Islamic Writings, win the Shaykh Mufid Award and receive £50. This year's winners of the Shaykh Mufid Award were:
Zain-Al-Husain Moloobhoy, 'Islam and Slavery – A Personal Quest for Understanding and Resolution'
Tim Orr, 'A Clash of Modernity: Evaluating Amina Wadud's Argument for Gender Inclusion for Friday Prayers'
Yousuff Aden, 'A Brief Account of the Influences of the Qādiriyyah, Shādhiliyyah, and ʿAlawiyyah Sufi Ṭarīqahs in East Africa'
Khadijeh Ahmadi-Moghaddam, 'To What Extent Does Shūrā Relate to Democracy?'
Cemal Djemal, 'The Development and Journey of the Person in Naqshabandī Sufism and Twelver Imāmi ʿIrfāni Shi'ism'
The Islamic College congratulates all the winners of this year's awards!