A Talk by Dr Farid Al-Attas
Monday 2nd  October 2023
6.00 P.M. – 7.30 P.M. (LONDON TIME)
Venue: The Islamic College 133 High Road Willesden Green NW102SW
A Talk by Dr Caroline Tee
Thursday 21 September 2023
6.00 P.M. – 7.30 P.M. (LONDON TIME)
Beauty in Sufism: The Teachings of Ruzbihan Baqli
Thursday 22 February 2018 – 6:00 pm
Thursday 22 February 2018 – 6:00 pm
Building the "Silk Road" From Below: Arab Traders Between East and West Asia Read more…
Meet the Author Programme
Organised by
The Islamic College
A Universe in Constant Change:
Mulla Sadra and Transubstantial Change
Friday 8th of July the online session (at 11:30 am UK Time)
Author: Dr Muhammad Kamal
Dr Zoheir Esmail will serve as the discussant
In this book, Mashal Saif explores how contemporary 'ulama, the guardians of religious knowledge and law, engage with the world's most populated Islamic nation-state: Pakistan. In mapping these engagements, she weds rigorous textual analysis with fieldwork and offers insight into some of the most significant and politically charged issues in recent Pakistani history. These include debates over the rights of women; the country's notorious blasphemy laws; the legitimacy of religiously mandated insurrection against the state; sectarian violence; and the place of Shi'as within the Sunni majority nation. These diverse case studies are knit together by the project's most significant contribution: a theoretical framework that understands the 'ulama's complex engagements with their state as a process of both contestation and cultivation of the Islamic Republic by citizen-subjects. This framework provides a new way of assessing state – 'ulama relations not only in contemporary Pakistan but also across the Muslim world.
Vistas to the East 
Friday 28th of January 2022
6:00 pm – 8:30 pm (UK Time) 
on Zoom
(3rd Online Webinar)

Mulla Sadra's Philosophy: Continuity and Novelty
Professor Mohammad Fanaei Eshkevari studied both at the Qom seminary in Iran as well as McGill University in Montreal, Canada, where he received his PhD in philosophy. For the past two decades, he has been lecturing on comparative philosophy, mysticism and theology in Imam Khomeini Education and Research Institute in Qom. He has published more than fifty books and articles in Persian on different areas of Islamic thought.
Publications in English:
Mohammad Fanaei Eshkevari, An Introduction to Contemporary Islamic Philosophy, translated by Mostafa Hoda'i, London: MIU Press, 2012.
"Mysticism and Religion: A Shi'i View, " in On Spirituality, ed. M. D. Bryant S. K. Harrison and A. J. Reimer, (Kitchener, Ontario: Pandora Press, 2010), pp. 87-97.
"Self-Knowledge and Soul," in Soul: A Comparative Approach. Eds. Christian Kanzian & Muhammad Lagenhausen, Germany: Ontos Verlag, 2010, pp. 17-24.
"Reflection on Prayer: A Muslim Perspective," reprinted in Spiritual Message of Islam, Ed. M.A. Shomali (London: Islamic Centre of England, 2009), pp. 103-112.
"God in Islamic Mysticism," in Proofs for the Existence of God, eds. Christian Kanzian & Muhammad Legenhausen (Innsbruck: Innsbruck University Press, 2008), pp. 91-98.
"Mulla Sadra's Theory of Substantial Motion," in Substance and Attribute: Western and Islamic Traditions in Dialogue, eds. Christian Kanzian & Muhammad Legenhausen (Germany: Ontos Verlag, 2007), pp. 25-43.
"Sohravardi and the Question of Knowledge," in Plato and Sohravardi (Athens: Hellenic Society for Philosophical Studies, 2007), pp. 48-62.
"Faith and Morality in Islam and Christianity," in A Catholic-Shi'a Engagement: Faith and Reason in Theory and Practice, eds. Anthony O'Mahony and others, (London: Melisende, 2006), pp. 170-180.
"Prayer and Contemplation in Islamic Spirituality," in Catholics and Shi'a in Dialogue: Studies in Theology and Spirituality, eds. Anthony O'Mahony and others, (London: Melisende, 2004), pp. 256-262.
"Mysticism and Dialogue among Cultures," in Peace Office Newsletter, Vol. 36, No. 1, January-March 2006.
"God's Inclusive Mercy," in Peace and Justice: Essays from the Fourth Shi'I Muslim Mennonite Christian Dialogue, Winnipeg: 2011, pp. 120-124.
"Islamic Philosophy in Contemporary Iran," in Al-Mustafa Journal of Islamic Studies, Vol. 1, Nu. 1, (Winter 2012), pp. 89-123.H
Professor David Bakewell Burrell is an American educator, theologian, writer and translator. He is the Theodore Hesburgh Professor emeritus in Philosophy and Theology at University of Notre Dame, USA. He has written and published extensively on Judeo-Christian and Islamic traditions.
Here is a selected list of Prof. Burrell's publications:
Books
Burrell, David (1973). Analogy and Philosophical Language. Yale University Press..
—— (1974). Exercises in Religious Understanding. University of Notre Dame Press.
—— (1979). Aquinas: God and Action. University of Notre Dame Press..
—— (1986). Knowing the Unknowable God: Ibn-Sina, Maimonides, Aquinas. University of Notre Dame Press.
—— (1993). Freedom and Creation in Three Traditions. University of Notre Dame Press.
——; Elena Malits (1997). Original Peace: Restoring God's Creations. Paulist.
—— (2000). Friendship and Ways to Truth. University of Notre Dame Press.
—— (2004). Faith and Freedom: An Interfaith Perspective. Blackwell.
—— (2008). Deconstructing Theodicy: A Philosophical Commentary on Job. Grand Rapids, MI: Brazos..
—— (2009). When Faith and Reason Meet: The Legacy of John Zahm CSC. Notre Dame, IN: Corby Publishing.
—— (2010). Learning to Trust in Freedom: Signs from Jewish, Christian and Muslim Traditions. University of Scranton Press.
—— (2011). Towards a Jewish-Christian-Muslim Theology. Wiley-Blackwell.
Translations
Al-Ghazali on the Ninety-Nine Beautiful Names of God (translation from Arabic with Nazih Daher) (Cambridge: Islamic Texts Society, 1992; Louisville, KY: Fons Vitae, 1998)
Al-Ghazali on Faith in Divine Unity and Trust in Divine Providence (translation of Bk. 35 of Ihya' Ulum ad-Din) (Louisville, KY: Fons Vitae, 2000)
Roger Arnaldez's Three Messengers for one God (Notre Dame, IN: University of Notre Dame Press, 1998) – with Mary Louise Gude, C.S.C. and Gerald Schlabach.
Avital Wohlman's Al-Ghazali, Averroes and the Interpretation of the Qur'an: Common Sense and Philosophy in Islam (London: Routledge, 2009) – translated from Contrepoint entre le sens commun et la philosophy en Islam: Ghazali et Averroès (Paris: Editions du Cerf, 2008)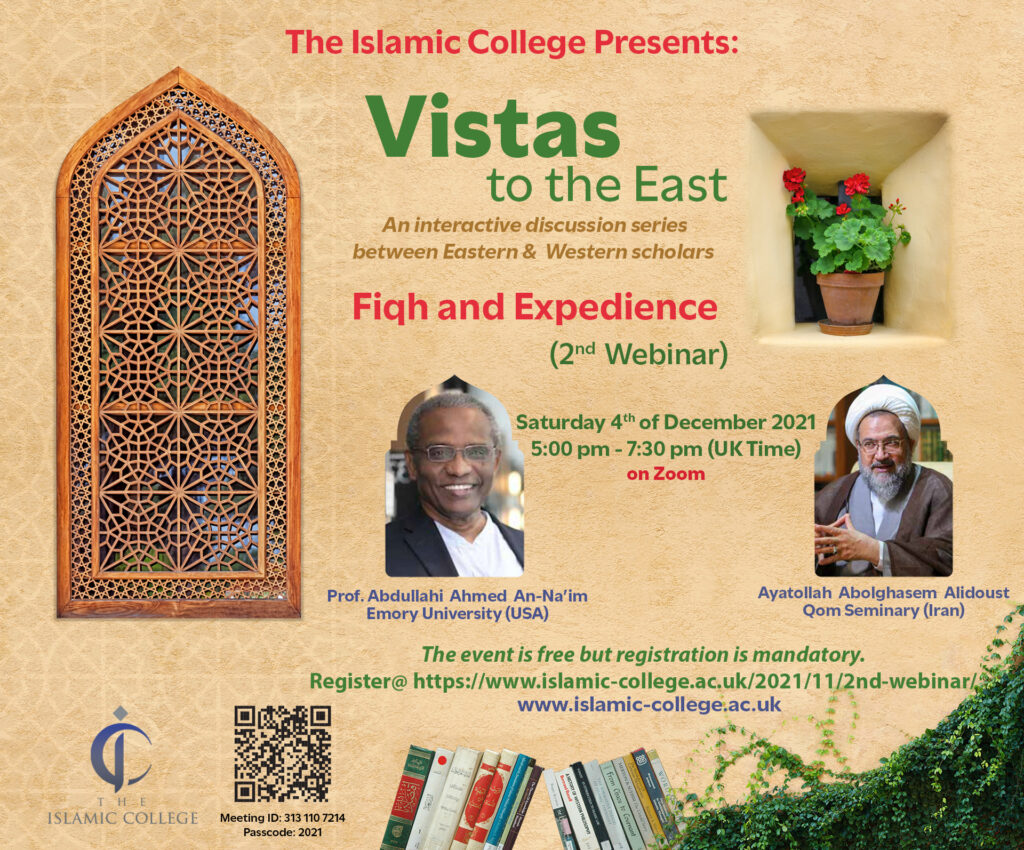 Vistas to the East 
Saturday 4th of December 2021
5:00 pm – 7:30 pm (UK Time) 
on Zoom
(2nd Online Webinar)

Fiqh and Expedience
Ayatollah Abolghasem Alidoust
Prof. Abdullahi Ahmed An-Na'im
Ayatollah Abolghasem Alidoust (Qom Seminary, Iran)
A senior Iranian cleric and legal scholar and professor of Fiqh at the Research Institute for Islamic Culture and Thought. He is a recipient of the Iranian Book of the Year Award for his book entitled Fiqh and Maslaha.
Prof. Abdullahi Ahmed An-Na'im (Emory University, USA)
An internationally recognized scholar of Islam and human rights, Prof. An-Na'im teaches courses in international law, comparative law, human rights, and Islamic law. He is the author of Islam and the Secular State (Harvard University Press, 2008)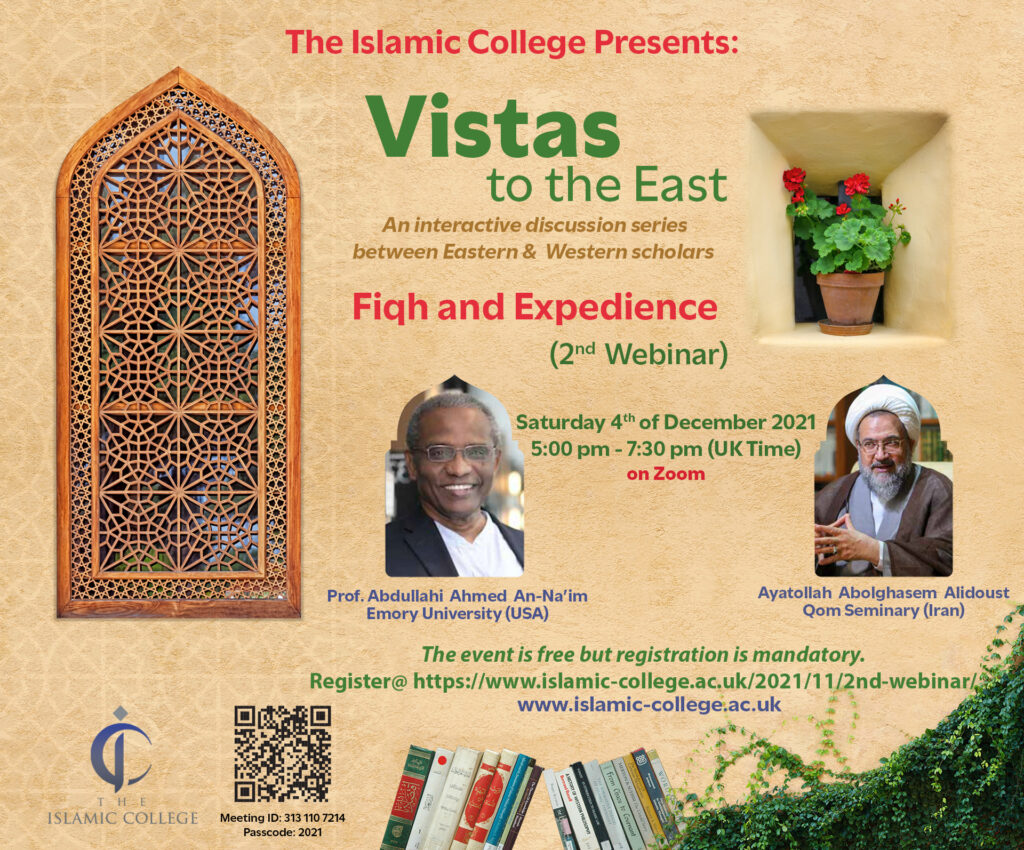 Vistas to the East 
Saturday 10th of April 2021
5:00 pm – 7:30 pm (London Time) 8:30 – 11:00 (Iran Time)
on Zoom
(1st Online Webinar)

Biobibliographical Analysis (taḥlīl-i fihristī):
Reconstructing Early Works of Shiʿi Hadith
Ayatollah Sayyid Ahmad al-Madadi (Presenter)
Prof. Andrew Newman (Discussant)
Prof. Robert Gleave (Discussant)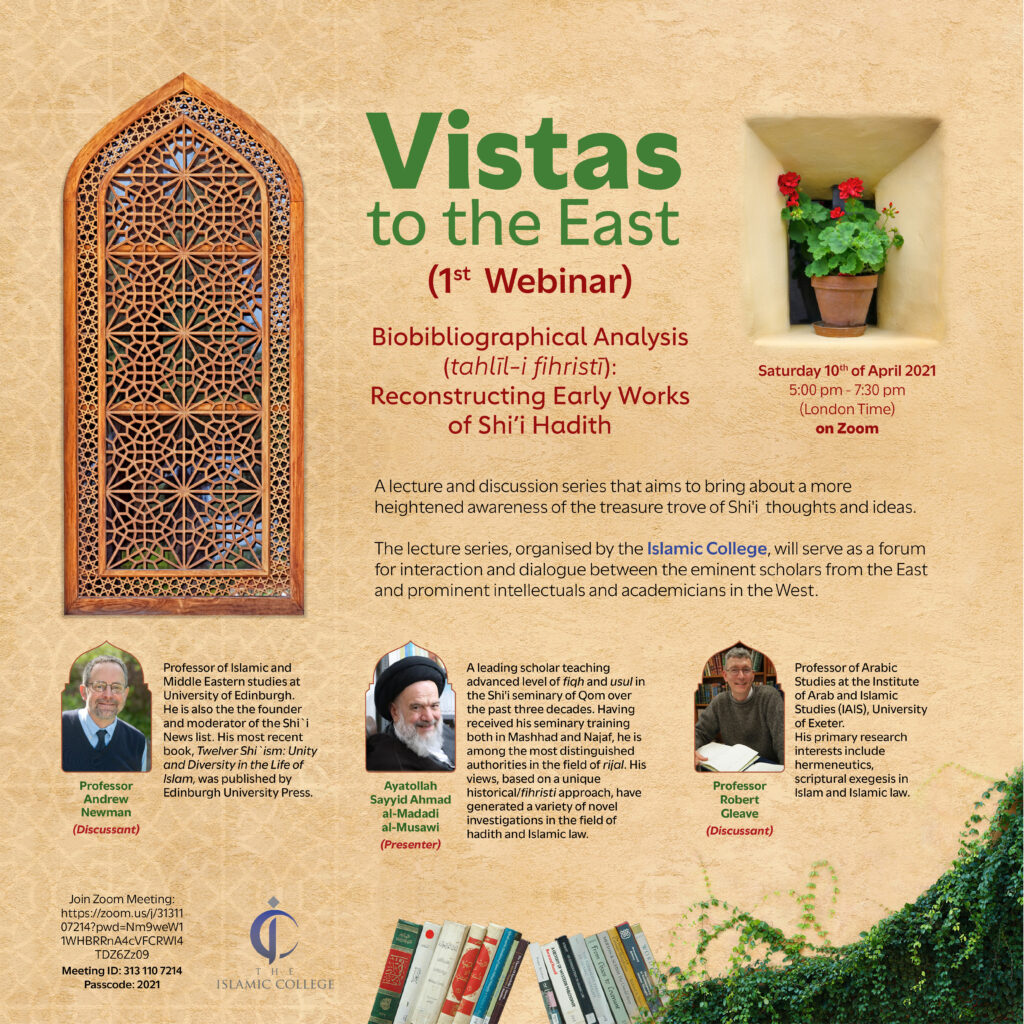 Starting From 21st January 2021
Tuesdays & Thursdays – 6:30 pm to 8:30 pm
Course Fee: £50/Semester
The Islamic College has organized an Arabic Course for those who want to learn the language of the Islamic revelation. Classical Arabic refers to both the language of the Qur'an and of the various works produced during the early Islamic period.