Registration now open for Shi'i Studies Conference
There is no fee but registration is mandatory.
Showcase your artwork!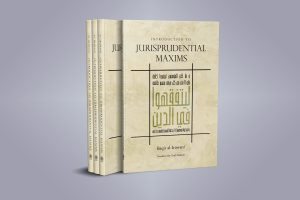 Jurisprudential maxims (al-qawa 'id al-fiqhiyyah) play an important role in determining one's legal duty in particular situations.
A discussion of women in Islam is one of the most contentious and politicised subjects in contemporary studies of Islam and has been intimately tied with questions of "West versus East" and the colonialist project. It remains a flash point for perceived civilisational conflict in the media today. With that in mind, this webinar will explore the discussions of women in Shi'ism that appear in literature on Shi'ism published in the West. What kind of underlying assumptions are brought to the literature? Are there any particular slants characteristic of the literature? What about the influence of other subjects, such as Biblical studies? It is hoped that such an evaluation can lead to a more critical reading of the literature, as well as bring to light questions about the position of women in Shi'i thought.
---
Speaker? Dr Amina Inloes
When? Friday 31st March
Time? 2.30 pm GMT

---
The online LINK to attend the webinar is:
This link will be activated 15 minutes in advance of the webinar.
---
QUICK TIPS:
– Participants need to use a laptop or desktop computer. Tablets and mobile devices do not support all the features.
– Use headphones instead of speakers to prevent any voice echo's
The webinar addresses the main principles and standards of academic writing and the importance of following such standards up in writing academic essays. The following questions will be dealt with in this session: how coherence could be kept in academic writing, how essays could be written with high clarity, and what are the main aims and objectives of a research proposal components. Also, the method of selecting a topic for writing an essay or a dissertation will be explored. Last but not least, the research considerations which need to be taken into account when doing a research will be highlighted at the end of the webinar.
---
Speaker?Mortaza Rezaee
When? Friday 17th March
Time? 2.30 pm GMT

---
Neither prose nor poetry, the mesmerising verses of the Qur'an have been recited for centuries in the Muslim world by master reciters (qurrā') based on a system of melodic modes (maqāmāt).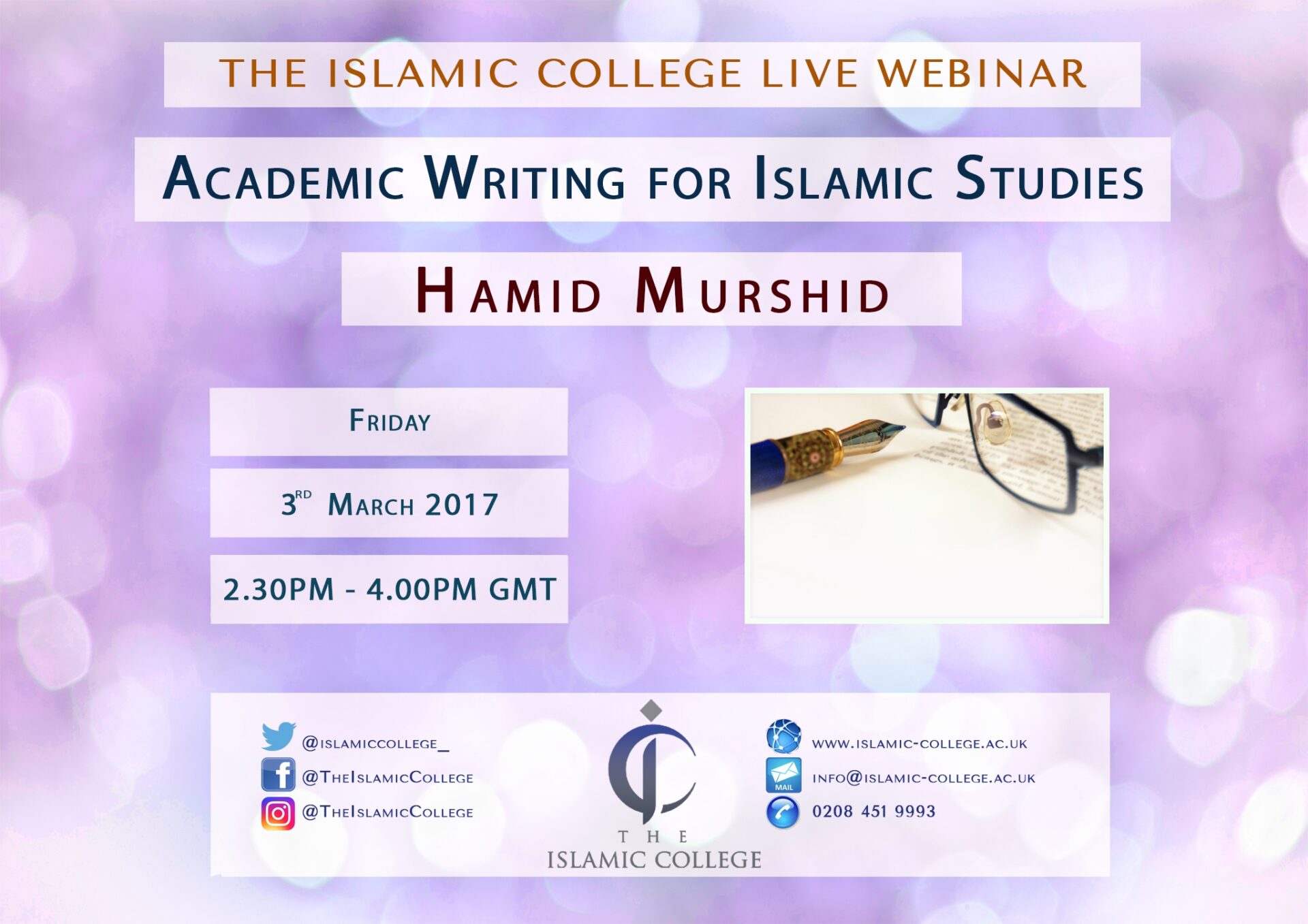 The webinar covers practical advice on how to improve one's writing in general and formal academic writing in particular. The emphasis will be on clarity of presentation, critical reasoning, and sound argumentation. There will be a short review of a number of common logical fallacies which ought to be avoided in thoughts and arguments. The participants will be presented with samples of academic writings from the works of leading writers in the field of Islamic scholarship. Issues such as the choice of appropriate fonts for the Islamic Studies, the transliteration styles of two leading writing style manuals in Social Sciences and Islamic Studies, namely, IJMES and ICAS Press and effective application of transliteration conventions are among the topics to be discussed in the webinar.
---
Speaker? Hamid Murshid
When? Friday 3rd March
Time? 2.30 pm GMT

---
Introduction to Rijal Studies is an English translation of Durus Tamhidiyyah fi al-Qawa'id al-­Rijaliyyah, a widely-used textbook in Islamic seminaries.
Where does the word Firdaws come from? How was the Arab-Islamic view of history formed? Are the Arabian Nights actually Persian Nights?
Nahj al-Balaghah Studies
---
This course is designed for students of all religions who are keen to learn about the primary sources of Islam. It covers various topics such as monotheism, the Hereafter, prophethood, Imamate, morality, wisdom, intellect, the Qur'an, the theory of justice, and the position of Imam Ali as discussed in Nahj al-Balaghah.
This course consists of 11 interactive sessions ending with Q & A.
This is a great opportunity to learn from the world-class scholars and experts on the life and thoughts of Imam Ali (as).
---
Registration is mandatory but no fee is required
To register:
Topics include:
Compilation and Authenticity of Nahj al-Balaghah
Shaykh Mohammad Saeed Bahmanpour
Saturday – 11th March 2017 – 15:00-18:00
The Ahl al-Bayt of the Prophet in Nahj al-Balaghah
Shaykh Mohammad Saeed Bahmanpour
Tuesday – 14th March 2017 – 18:00-20:00
Monotheistic Approach in Nahj al-Balaghah
Dr Isa Jahangir
Tuesdays – 21st & 28th March 2017 – 18:00-20:00
Spiritual Enhancement in Nahjul Balagha
Dr Syed Fadhil Al-Milani
Saturday – 22nd April 2017 – 15:00-17:00
Imam Ali's Theory of Justice
Prof Ali Paya
Tuesday – 25th April 2017 – 18:30-20:00
The Image of The Qur'an in Nahj al-Balaghah
Dr Mohammad Ali Shomali
Thursday- 27th April 2017 – 18:30-20:00
Spiritual Mentoring(Tarbiyat) in Nahjul Balagha
Dr Mohammad Javad Zarean
Tuesday – 2nd May 2017 – 18:30-20:00
Imam Ali (as) in Nahj al-Balaghah
Maulana Maqbool Hussain Alvi
Tuesday – 9th May 2017 – 18:30-20:00
Prophethood in Nahj al-Balaghah
Dr Mohammad Ali Shomali
Thursday- 11th May 2017 – 18:30-20:00
Typology of Personalities in Nahj al-Balaghah
Maulana Maqbool Hussain Alvi
Saturday – 13th May 2017 – 15:00-18:00
Understanding the Qur'an in the Light of Nahj al-Balaghah
Shaykh Mohammed Ali Ismail
Tuesday – 16th May 2017 – 18:30-20:00
Nahj al-Balaghah: An Intellectual Touch
Dr Ahmad Jalali
Saturday – 20th May 2017 – 15:00-18:00