Cert HE in Qur'anic Arabic
Entry Requirements
Two A-levels or equivalent
Students from the EU may also apply.
Prior knowledge of the Arabic language is not required.
Duration
1 years on a full-time basis or 2 years on a part-time basis.
Fees 2019/20
UK/EU: £3,000
Financial Assistance
Please contact the College for more details.
Validating Institution
Middlesex University
Application Procedure
Application for this course is directed to the Islamic College.
Applicants will have to apply via UCAS (UCAS code TP11). For enquiries, please call 020 8451 9993 or e-mail on:  admissions@islamic-college.ac.uk
Contact Admission
admissions@islamic-college.ac.uk
+44 (0) 208 451 9993    –    +44 (0) 20 8438 1207
UCAS
www.ucas.com
This programme was developed and is delivered and assessed by The Islamic College, awarded by and quality assured by Middlesex University.
Cert HE in Qur'anic Arabic
For those who have no previous knowledge of Arabic, The Islamic College offers this Certificate of Higher Education in Qur'anic Arabic as a foundation for students who are enrolling in the BA Hawza Studies. This intensive course will equip students with the necessary skills required to access primary Arabic sources in order to perform their independent reading and research. Its aims are to provide students with an in-depth knowledge of classical Arabic and to train them in skills that are essential for understanding Arabic texts. The course is designed to teach beginners all aspects of the language including speaking, reading, writing, comprehension and grammar. Additionally, students are trained to correctly and fluently recite the Holy Qur'an.
This Certificate degree can be eligible for student loans if taken as part of the BA Hawza Studies but not if taken as stand-alone qualification.
Applicants will have to apply via UCAS.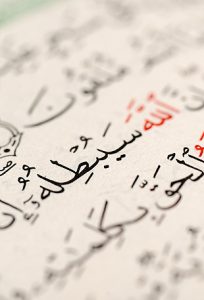 COURSE OUTLINE
Students are required to complete all the 120 credits to qualify for the Cert HE in Qur'anic Arabic. 80 of these credits are made up of the four main modules of the Arabic language: Grammar (divided into its two major components: Morphology and Syntax), Reading and Writing and Listening and Speaking. The remaining 40 credits consist of Analytical Grammar, which supports the two Grammar modules through the application of grammatical rules to selected texts; and Recitation of the Qur'an, which assists students in their reading and pronunciation of Arabic letters and words.
All Islamic College Students are encouraged to be active and independent learners and to acquire all the necessary skills through a variety of methods of learning such as lectures, seminars (led by staff and students), presentations, tutorials, private study, individual research, and so forth.
Each module within a course has a different assessment weighting. Assessment is by a combination of written examination and essays unless specified otherwise.