This event will take place at the Islamic College on Wednesday 24th April 2019 from 7:00 pm to 9:00 pm
You are kindly invited to our student-led discussion:
UNDERGRADUATES AS MORAL ETHICISTS
Reshaping Perceptions of the 21st Century – Challenges From an Islamic Moral Viewpoint
TOPICS TO BE COVERED:
BLASPHEMY & FREEDOM OF SPEECH
LGBTQ
ISLAMOPHOBIA
BRITISH VALUES
RSE
Wednesday 10th April 6 pm – 9 pm
Venue:
The Islamic College
133 High Road
Willesden, London NW10 2SW
RSVP is essential: info@islamic-college.ac.uk
Refreshments will be provided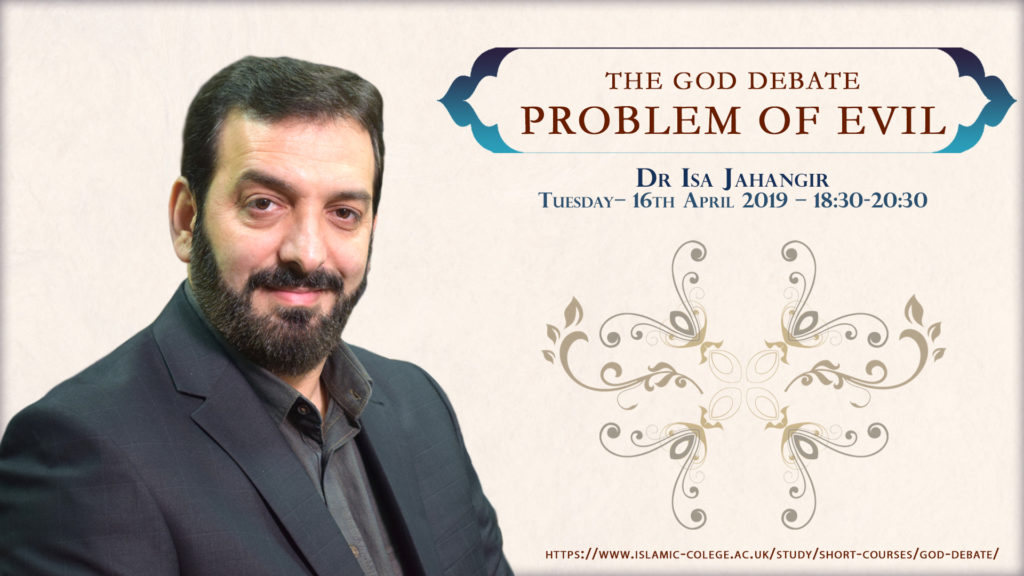 The Last session on "Problem of evil" will be held on Tuesday the 16th April at The Islamic College.
Registration for attending The Fifth International Conference on Shi'i Studies is now open.
Arabic Morphology An Introduction
Classical Arabic is the liturgical language used by an estimated 1.8 billion Muslims. As the language of the Qur'an and Hadith, Classical Arabic has served as the lingua franca of Islamic learning throughout the centuries. It is through mastering this language that one gains access to the primary Islamic texts and other treasures of Islamic heritage and civilisation.
Arabic Morphology: An Introduction is a translation of Sarf-i Muqaddamati, a Persian work that has been popular with both seminary and university students for decades. The book is often studied as a precursor to its unabridged version, Sarf-i Sadih, the translation of which ICAS Press has published under the title Arabic Morphology Made Simple. With its clear style, helpful exercises, and bilingual glossary of technical terms, this textbook provides students with an excellent start to their learning of Arabic.
About the author
Sayyid Muhammad Rida Tabataba'i (b. 1948) received his education at the Muntaziriyyah (Haqqani) Islamic School in Qum. A prominent student of Ayatollah Sayyid Muhammad Husayni Bihishti (d. 1981) and Ayatollah 'Ali Quddusi (d. 1981), he succeeded them as the principal of Muntaziriyyah and later followed in their footsteps as the principal of the Shahidayn Islamic School. He has also served as the principal of Jami'at al-Zahra', an Islamic seminary and university for women in Qum.
---
Author: Sayyid Muhammad Rida Tabataba'i
Cover: Paperback
---
You can order your copy here or by emailing bookshop@islamic-college.ac.uk
At the heart of our existence burns a question: 'Why am I here?' It is a question each of us must answer if we are to puzzle out our place in the Cosmos. But then why is the Cosmos here, or anything for that matter? Why is there something rather than nothing? Theists say that God is the best explanation of our existence, but is this just a comforting thought or can this claim be supported with evidence? Is there any proof that God exists?
This course aims to familiarize students with the main arguments for God's existence, their relative strengths and weaknesses, and possible atheist counter-arguments to them. It will look at the contributions made by leading proponents of both theism and atheism and take into account the latest relevant scientific theories.
Date: 27th – 28th April 2019
Location: The Islamic College, London, UK

The Islamic College invites abstracts to be submitted for its fifth conference specialising in the flourishing field of Shi'i studies. This conference will provide a broad platform for scholars in Shi'i studies to share their latest research. Papers are welcome on any aspect of Shi'i studies.
More information about the topics and abstract submission details can be found on the main conference page.
Video Highlights from The Third International Conference on Shi'i Studies